How do I install expert advisors or indicators from the mql5.com market?
Kindly read my installation guide.
How do I update expert advisors or indicators from the mql5.com market to latest versions?
Kindly read my update guide.
The free download button is not working!
Kindly read my free download guide.
Do I have to pay for future updates?
No, updates are free.
What is an activation?
An activation is the act of installing a product in a metatrader platform. Each time you do, an activation is consumed.
Does an update consume an activation?
No, it does not.
Can I get the .mql file (source code) of a product?
No, we don't disclose our source codes for any reason.
Can I run indicators and EAs from the mql5.com market in Mac OS X?
Yes, but you need to virtualize windows on your Mac. You can use Parallels Desktop or VMWare to do so. Emulation with Wine or Crossover won't work because the mql5.com market needs Internet Explorer (IE > 8) to be installed in your operating system.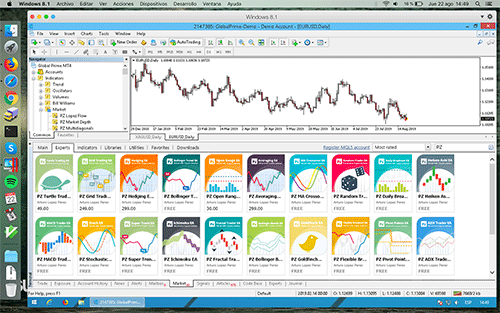 Do you offer discounts?
We can offer discounts sparingly in our website. However, the mql5.com market does not implement discount codes functionality and are unable to offer discount codes there.
I want to make 30%-100% per month!
Consider the possibility that your expectations are unrealistic. The best hedge funds in the world make around 30% per year, but you want to make several times that: you might succeed but chances are that not for long. It will probably lead you to use excessive use of leverage and eventually you'll suffer a loss difficult to recover from.
Why are you not answering to my questions?
I'll try to reply within 24-48 hours. Kindly note that if your question regards a free indicator or EA, no support is provided because I have more than +100 free indicators and EAs published with tens of thousands of downloads per month, and limited time to go over all comments, messages and reviews. I might reply to questions about free indicators and EAs, but it'll be on my spare time.
1,228 total views, 2 views today
We are sorry that this post was not useful for you!
Let us improve this post!
Tell us how we can improve this post?